A big, gaping hole in the ground on 74th Street is all that is left of the college's new facility for its nursing school. Half of the street is blocked off and the ground is covered in construction debris and expired working permits, and the funding to complete the school has been rejected by Gov. Cuomo.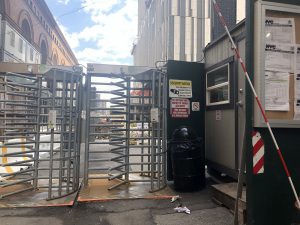 This has left Hunter medical and nursing students with deteriorating facilities and fading hope that Hunter will replace these much-needed laboratories that were originally scheduled to be ready in 2019.
"Most of the flasks were stained and worn out," said David Pedrero, 22, a student who has taken many lab classes at Brookdale. "A lot of the equipment was missing so we had to take from other drawers and there were no stools. We have to stand for three-hour labs"
Hunter's nursing program was planning on building a new facility right next to Memorial Sloan Kettering Hospital, just a short walk from Hunter's campus. This building was intended to include a new lab facility and resource center for nursing, pre-medicine and physical therapy students since the Brookdale campus and North Building labs are outdated. The school partnered with Memorial Sloan Kettering and the two organizations were going to share the facility. Construction began in 2015 and was expected to be completed this year, but work came to a halt when the money stopped flowing.
According to Hunter's construction plan on their site, it would cost $300 million to build this new facility. Gale Brewer, the Manhattan borough president, says Hunter can't build this building without any funding from the state and as of now, the state has not released any funding for Hunter.
"The state hasn't come through with the funding as far as our office knows," said Brewer's communication office.
This lack of funding has left Hunter with labs that aren't up to par with the competitive and intense science program, the college claims.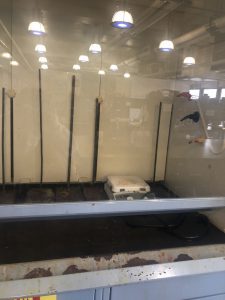 "Hunter's ability to remain competitive is jeopardized by the severe inadequacy of the North Building on 68th Street, which currently houses Hunter's science programs and is one of the oldest structures in the CUNY system," says Hunter College's website, "The Brookdale Campus currently housing Nursing and P.T. has inadequate space and infrastructure for its highly-valued programs."
Many students feel the infrastructure is deteriorating and being one of the oldest structures has its difficulties.
"The labs in Brookdale are pretty bad," said Josh Almiron, 22, a research student who has taken some of his lab classes in the Brookdale building. "The floor is made of wood and it looks like it's about to break any second."
Most students in these science programs have to split their classes between the main campus and Brookdale, which means they are often commuting back and forth during one day. The Brookdale campus requires a student to take the 6 train for six stops and then walk 14 minutes, according to Google maps. The entire ride takes about a half hour. For some students, the commute is not worth the hassle because of how difficult it is to work in the labs, confirming what the college website suggests about the labs' "severe inadequacies.".
"Brookdale is so far away from Hunter, I have to take the train and walk pretty far to the building," says Alaa Elhage, 20, a biology student in her junior year, "If there were labs just six blocks from here, that would be an easier commute."
Students were hopeful about a new facility and were interested in continuing their education at Hunter if there was a promise for new labs.
"I am studying physical therapy and I know Hunter has a great program," said Arthur McMahon, 21, who plans to go to graduate school. "I was hoping if I went to the graduate program here, there'd be the new building that's closer to the Hunter campus."
McMahon said he will still apply to the program in hopes that the school will take action soon.
And the CUNY Board of Trustees has made building this new facility a priority, said a spokesperson for the college. "We are working with elected officials to move the project forward and we encourage students and the community to let their representatives know how important this endeavor is," he said.