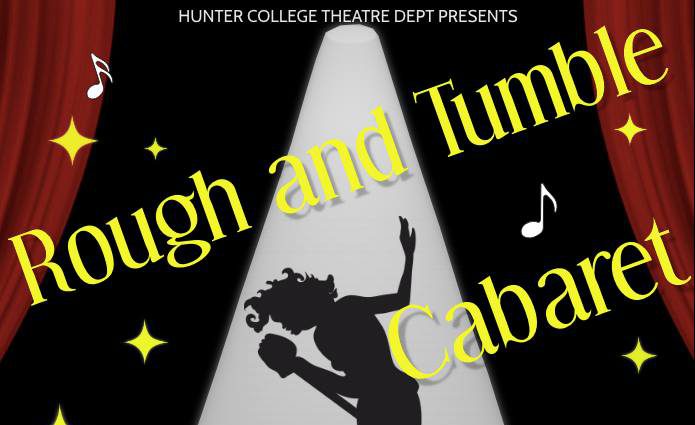 On a recent Thursday night, a week before finals, the Baker Theatre's library contained no desks or students studying, for that matter. In fact, apart from the walls lined with textbooks, it wasn't much of a library at all. The space had been transformed into a rudimentary stage for the Department of Theatre's biannual Rough and Tumble Cabaret.
The student-led event showcases the variety of acts and talents within the Hunter student body, and students of all academic backgrounds and skill levels are encouraged to audition and perform. The cabaret has been a tradition starting in 2015 and has been in production every semester since then. This particular night had 15 performers, with acts varying from singing to puppeteering.
Aisha Howie, a freshman majoring in sociology and minoring in dance, performed a modern dance piece to Billie Eilish's "Hostage." The center stage was flooded with blue and red lights, which added to the drama of the performance. Howie moved fluidly yet erratically, displaying an abundance of emotion. By the end of the dance, her neatly tied hair was loosened and sprawled across her face.
"I went into like this headspace, which was just flowing through it and not really worrying too much about the audience," Howie said.
A notable aspect of the showcase was the energy and supportive nature of the crowd. Within the small confines of the library there were more than 30 audience members, sitting in a tight semi-circle around the makeshift stage.
"I just wanted to support my friend," said Mariana Vargas. "I think that she's been going through some personal issues lately, and I feel that she definitely put herself out there through that dance."
One of the more extraordinary acts in the night was from Sandra-May Flowers, a senior, and her puppet made from a hat and broom. Before they performed Percy Faith's "Beloved Puppetry Object," Flowers gave a treat of honey and spiced nuts to some lucky members in the audience, a gesture that emphasized her performance as the unexpected treat it was.
Earlier in the night, one of the hosts, Ricardo "Ricky" Charriez, described how he originally became involved in theater. As a young child, he felt uncomfortable with his sexuality and was constantly bullied for his femininity. However, Charriez, in full drag at the event, recounted how he found solace in theater where he could "dress up and be anyone else."
"Not only does this event bring culture, because everybody is so different (this is a very diverse college) it brings out the human part from all of us where we're vulnerable in different ways when we're performing," Charriez said. "It's a way for us to come together."