Coming off the 2015-2016 season, the Hawks men's basketball team finished 3-23 overall, a record even worse than the previous season. It was a big transition year: John Pelin had just been hired as the head coach and the team had lost two out of their three top scorers from the previous season.
But just a year later, things started to turn around. The following season, Pelin managed to triple the win column to nine, making the quarterfinals of the CUNYAC tournament. Then the year after that, in the 2017-2018 season, the Hawks finished with 12 wins while returning to the CUNYAC tournament for the same result.
Behind the Hawks' recent success there has been one thing seems to make the difference: recruitment.
Before Pelin took the position at Hunter, he spent seven seasons as the assistant men's basketball coach for the New York University Violets. While at NYU, he was in charge of recruiting, player development and practice planning. Pelin was able to help the Violets post a 21-6 record in the 2011-12 season, their best in school's history. To add to that, the Violets made the NCAA Division III Championship for the first time since 1997-98.
Pelin said the recruitment process of a player comes down to three simple categories: academics, athletics and sociability. The key, however, is knowing when you have the right fit.
In terms of academics, players must have maintained a 90 high school average, and achieved a 1300 average SAT score and a 28 average ACT score. Hunter requires student-athletes to be registered for 12 degree credits every semester and keep in good academic standing, which is a minimum GPA of 2.0. According to Hunter Athletics, for the 2016-2017 academic fall semester, more than half student-athletes (157 out of 298) had a GPA of 3.2 or higher.
Pelin said the final category requires that the student be able to be a part of Hunter socially, meaning that students must be able to fit the culture at Hunter and be able to live in New York City, something to consider especially when recruiting players from outside of the city.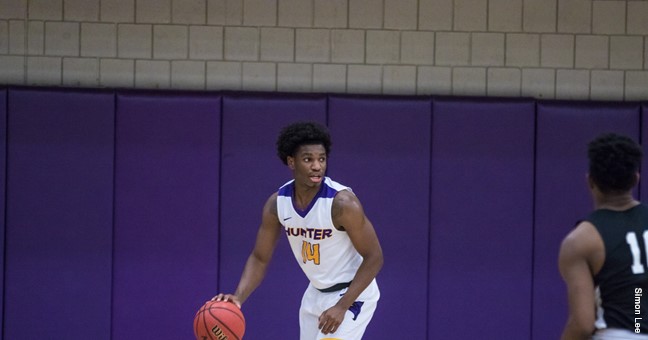 Since he arrived, Pelin has recruited several key players, one of which is third year player Gio Gabbidon. He said Gabbidon is a good athlete and a good scorer as he currently has 132 point over 9 games averaging 14.7 — 8.4 more points per game then last season average. "Since he came from a good high school program [Iona Prep], he has got some really good experience from there," Pelin said. Gabbidon is currently one of the captains for the Hawks.
As for the 2018-2019 season, the Hawks have gone 3-6 in their first 9 games of action. Despite this start, Pelin is hopeful that the team will turn it around. There's a lot more season to go, with 16 games scheduled for 2019.
"We are developing, and we are going to continue to develop," Pelin said. "I wish we didn't have such a long break because we were starting to get our rhythm. We have been close in our last two games." Noting that his players have to put academics first, he added, "but you know — finals."