"7k or strike! 7k or strike!"
"No contract, no peace! No contract, no peace!"
Loud chants and large picket signs filled the air on a chilly late afternoon on Dec. 10 outside Baruch College last week as crowds of CUNY employees gathered to demand higher pay and better working conditions.
The rally was held immediately before the CUNY Board of Trustees meeting, and was organized by the Professional Staff Congress (PSC)—the union representing CUNY's 30,000 full-time and adjunct faculty and staff. It began outside Baruch's vertical campus on 25th Street and Lexington Avenue, before moving down the block to 24th Street. Here, some protesters linked arms and blockaded the entrance to the college. After refusing to leave, 17 union leadership members were arrested, including Barbara Bowen, president of the PSC.
Proud to have gotten arrested w/17 PSC leaders on Monday at @CUNY Board of Trustees mtg. https://t.co/mt0CH2oLS0 @PSC_CUNY pic.twitter.com/1kkKdzAqr3

— andrea ades vasquez (@avsqz) December 13, 2018
"This is a critical moment for us," said Rosemari Mealy, a protester who has been a CUNY adjunct professor for more than 25 years. "As adjuncts, and as workers from CUNY, we deserve to be treated professionally and with respect."
The union organized the protest to tell the Board of Trustees to request enough funding to meet union demands. Specifically, the PSC is demanding a fully-funded contract, as well as funding to increase adjunct salaries to $7,000 per course, from an average of $3,500, and a three-hour reduction in teaching load for full-time professors. The Board of Trustees is in charge of putting these items in CUNY's annual budget request to the city and state. Usually the budget is voted on in November, but this year it has been delayed.
David Unger, a higher education associate at the CUNY School of Labor and Urban Studies, said it would be "a show of cowardice, of a lack of moral and political leadership" if the board does not request the money that CUNY workers need.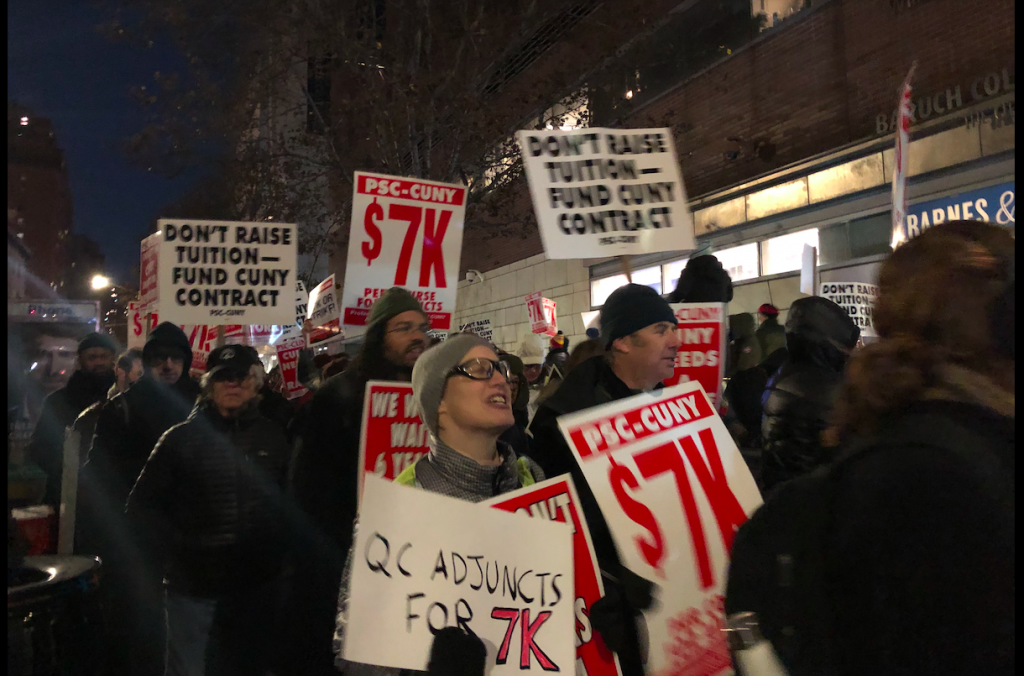 "We're out here saying that CUNY is standing united and demanding that they use their power," he said. "The board just refuses to use their political leverage and capital to ask for a budget from the state that fully funds all of our needs."
Michael Beltzer, a former student at Baruch, returned to lend support to CUNY faculty at the protest.
"As somebody who was able to go through the education system and see how great of an education that the adjunct professors provide, knowing that they're not making a living wage, knowing that they have to work several other jobs just to make ends meet, it's just not right to me," he said.
The most recent contract between CUNY and its workers expired on Nov. 30, 2017, leaving employees without one for over a year. The contract between PSC and CUNY establishes the terms of employment for staff and faculty, including salary, course load, and retirement regulations. Since the contract expired, PSC has engaged in negotiations with the board and is currently waiting for CUNY to come forward with an offer that addresses salary and teaching load.
But time may be running out. The rally made it clear that adjuncts were unafraid to strike if CUNY did not raise their salaries, and many protesters felt that this was the most important demand.
"The Board of Trustees needs to know that we're organized, that we're a strong union, and that we're fighting back, and that we're willing to strike if necessary," said Mealy.
Currently, adjuncts receive an average of $3,500 per course—a wage that PSC calls "near-poverty." The salary amounts to about $28,000 per year if adjuncts take on a full eight-course load.
"The pay is low for all the work we do," said Luis Barajas, an adjunct assistant professor at John Jay College of Criminal Justice. He said he earned twice as much at his previous job as a chef before becoming a professor one year ago.
"As a professor with a PhD, with all these studies and degrees, it's half as much as a food chef in New York," he said.
Despina Lalaki, an adjunct professor at Baruch College and City Technical College, called her salary "absolutely a joke" and said she has colleagues who work multiple jobs "to survive."
"We are overworked, seriously underpaid, and as frustrated as it can get," she said.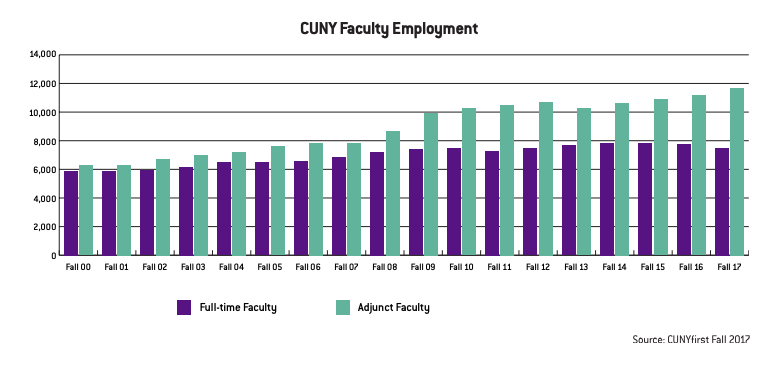 Chart from PSC's "The Facts about CUNY's Adjuncts." 
Frustration over low pay for adjuncts comes during a time when CUNY is actually hiring more of them. Since 2000, the number of CUNY adjuncts has nearly doubled. In fall 2017, CUNY employed almost 12,000 adjuncts and just 7,500 full-time faculty.
Mealy said teaching remains her passion, but after more than 25 years, she has had enough.
"CUNY relies on adjuncts," said Mealy. "We're the backbone of this university, and we should be treated as such."