Students and professors alike are confused about the current attendance policy at Hunter, and the confusion seems to go as far up as the dean level, as interviews with a dozen sources have discovered. Many students were told at the start of the semester that attendance could no longer be counted towards grades. However, the official policy in the 2018-19 course catalog states that while CUNY schools are "not attendance-taking institutions," professors may indeed use attendance to calculate grades, as has been the past practice.
The mixed messages may all spring from a rumor that has been flowing about a lawsuit filed by a student against Baruch College during the spring semester of 2018. But no substantial proof has ever really been brought forward about the lawsuit, and as of now it all seems to be a game of telephone, passed on from student to student. Calls and emails to Baruch and CUNY communications offices on two separate days were not returned.
Even among professors, the policy is not clear.
"The idea that CUNY is a non-attendance taking institution was news to many around the university, including myself," said Robert Cowan, the acting assistant dean for program development at Hunter, and a professor of English at Kingsborough. "The Hunter College Senate has interpreted this fact to mean that faculty cannot factor attendance into grade calculations. There is not a consensus on campus, however."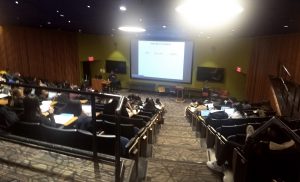 Officials maintain that the policy has not actually changed, however, the policy is stated much more succinctly now than it was in past course catalogs. Last year's policy made no mention of the fact that the school was a not an attendance-taking institution, and this year's policy now makes that clear.
This year's policy is stated this way:
Although Hunter is not an attendance-taking institution, the instructor has the right to set attendance as one of the requirements for the course, thus using attendance in the calculation of final grades. Such attendance policies will be listed in the course syllabus.
Last year's policy was stated this way:
The instructor has the right to set attendance requirements for the course, to keep attendance records, and to consider attendance in the calculation of final grades. Such attendance policies will be listed in the course syllabus. Students may not use absence from class as an excuse for not fulfilling all course requirements.
Students who have earned fewer than 15 credits of college-level work are limited in the number of cuts they may take in a course without risking a lower grade, as follows:
1-cr course-2 hrs of cuts
2-cr course-4 hrs of cuts
3-cr course-6 hrs of cuts
4-cr course-6 hrs of cuts (equal to 1 lab period and 1 lecture)
However, students must still attend class in the first seven days of the semester, when professors are required to take attendance and submit those records as part of the school's Verification of Enrollment. Students who never attend class at the start of the term can be removed from the class and receive a grade of WN, or administrative withdrawal. The WN has no effect on the student's GPA, but it can affect any financial aid a student may receive.
Since attendance still counts in terms of students remaining eligible to receive loans and scholarship money, the line starts to become blurred. Annie Murphy, a senior, said, "A few professors just said that there was an incident at Baruch that resulted in students no longer being penalized for not showing up to class, but then I heard somewhere else that it was up to the professor, so it's kind of confusing."
Murphy is not the only student who has heard this claim about the sudden change in the attendance policy at Hunter. Elizabeth Jankovic, a sophomore at Hunter, also heard about the new policy from a professor. She says that initially none of her own friends had heard about it, until more and more professors began telling students that attendance was no longer going to have an impact on their grades.
"It's definitely made me more likely to not want to go to class, and I know friends who actually skip lectures all the time because they know attendance doesn't count," said Jankovic. Since most students heard about the change from their professors, many have not stopped to question if that policy is true.
Sissel McCarthy, the director of the Journalism Program, was told about changes in the attendance policy but the rumors of a lawsuit at Baruch have remained just that to her—rumors.
"My understanding is that Hunter and all CUNY schools are classified as non-attendance taking institutions because of the Title IV fund regulations," said McCarthy. Title IV regulates federal financial aid and requires that students be officially enrolled in order to collect funds.
McCarthy made changes to her own attendance policy in the classroom. "I still take attendance, but no longer penalize students who miss more than two classes," said McCarthy. "Now I grade class participation during each session we meet, and it's worth 10 to 20 percent of a student's overall grade."
Tom Carboni, an adjunct professor of biology, thinks students should take attendance seriously — a lesson he learned when he was in college himself. He didn't bother to do the homework for a class where the professor did not collect it, only to fail the class and have to repeat it. The homework, he realized, was for his own good, not just for the grade.
"It takes time to develop a good college work ethic," Carboni said. "I believe this attendance policy will have the same effect on many students who don't realize the importance of attendance for most classes. Those who do not attend frequently will most likely do worse in courses than those who do attend regularly."
While Jankovic has considered not going to class, she said she is playing it safe. "I think it definitely impacts certain classes more than others," she said, "like classes where the professor just lectures and gives out power points as opposed to classes based on discussions in class."