Down in the "dungeon" of B3 in the West Building in late October, a crowd of women volleyball players are tucked away in a tight, florescent-lit locker room outside the Hunter Sportsplex. The main stage is set for Haley Trunkett, a 21-year-old senior, playing in her last season for the Hunter College Hawks. It's the last game of the regular season, and her teammates gather around along the walls of the room, dressed in their warm-up Hunter gear. Head coach Alyssa Broccoli sits close to Trunkett as she perches on a table at the front of the room.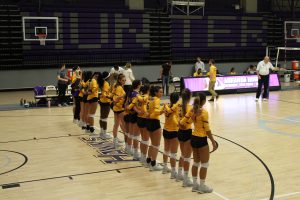 All eyes are on Trunkett in these minutes as before they face the number two-ranked team in the nation, Johnson & Wales University. She starts with these words, written by former Colgate University soccer player Lexi Panepinto on the end of an athlete's career, and fights back tears:
"We've not only invested ourselves physically, but mentally and emotionally as well – becoming consumed with the wins and losses, the highs and lows. It defines us in a way. Gives us purpose. Gives us an identity. It becomes our world and we become wrapped up in it. So that is why, when it's all said and done, when the final buzzer buzzes and the last whistle blows, it's a big loss – probably the biggest loss in all of our athletic careers."
This was a special day for Trunkett and her four senior teammates – delivered on what Hunter Athletics call Senior Day. But it is also part of a regular pre-game tradition of the women's volleyball team: a moment of thought and reflection shared together before every game that they call "Spirit."
Initiated by Coach Broccoli, the routine is intended to unify, motivate and mentally prepare players as they head on the court. For each game of the season, one player is assigned to "Spirit," and leading teammates with games, motivational speeches or anything that moves them.
The tradition isn't new for Broccoli; her head volleyball coach in high school, who is a mentor to her, created "Spirit" and it has played a big part in her life since. Broccoli said it was something that had an impact on her as a young player and that's why she decided to do it with her players.
Marlena Budna, a senior who was the CUNYAC Tournament MVP this past season, believes "Spirit" has changed her game. "It makes me realize how grateful I am to be able to participate in athletics and not to take any day for granted," said Budna.
Something about it is certainly working with this team. For the past five years, no other CUNY women's volleyball program has been able to dethrone the power house that is the Hunter College Women's Volleyball team. In their past five seasons, the Hunter Hawks have maintained a 39-1 record in the CUNY athletic conference. Their one loss against the Baruch Bearcats in 2015 is a small blemish in their conference record; otherwise the Hawks have been able to secure five CUNYAC championships in a row.
A big part of their success comes from the preparation and emphasis on a strong mental game from Broccoli.
"Coach does a lot of research and watches footage from other teams for hours before we play them, so she knows teams that we play like the back of her hand," said Trunkett.
With the combination of superb coaching and the impact of "Spirit," the Hunter Hawks players say they have been able to ride to success while thoroughly enjoying what the sport has to offer.
"Spirit is a time where we can think about the small things that lead us and remind us why we all play the sport we love," said Budna. "Without the love, hard work, support and dedication, playing a sport wouldn't be fun."