There were the usual third floor offerings: Monday and Tuesday consisted of bakes sales; Wednesday offered customized notebooks and art pieces; Thursday was "game day," where students were able to walk up and pay to play from a collection of popular games. But by Friday the events entailed live performances, spoken word and an auction for attendees to bid on a variety of beautifully painted art pieces, one of which was imported from Morocco.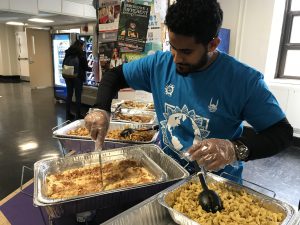 And when it was all over, Charity Week, an annual event hosted by the Muslim Student Association in the last week of October, had raised nearly $45,000, which they donated to efforts to aid children across the globe.
The project began in 2000, where its initial run took place using a shoebox and handwritten poster at St. George's Medical School, South London. Eventually, this small idea grew into an international event, gaining help from more than 200 universities all over the United Kingdom, Canada, Germany, Qatar, United States, Australia and South Africa. According to annual reports, Hunter's branch of the effort began in 2016 and has raised about $85,000 to date.
Charity Week is entirely led by volunteers at each university to save up as much money as possible; the proceeds are then donated to different projects across the world. This year, the list included seven projects in Mali, Syria, South Africa, Afghanistan, Somalia, Pakistan and India, all of which support schools, education and orphanages. Charity Week prides itself in allowing volunteers, donors and participants to fill out a survey to have a say on which projects are funded.
Hunter's effort also included events on the weekend: Saturday held an all-women's volleyball game where players donated to participate and Sunday was an intramural basketball competition where all participants contributed to the cause.
Sarah Hakim, 20, the vice president of the association, said even though Charity Week is only seven days long, preparation for the event takes months of planning. A big part of planning is figuring out how to lure students into donating.
"Marketing is definitely a challenge because Hunter is a commuter school, so it's hard to get people to stop to actually come join and be involved," Hakim said.
Last year, the group was able to raise $30,119.46. With every year of growth, members figure out new and creative ideas that will generate the most donations. Hakim said that the group learned a lot of lessons from last year, discovering that certain ideas worked better than others.
"We figured out what worked well last year and amplified that this year, so we had a lot more bake sales this year," said Hakim.
The biggest contribution came from the event that took place on Friday, which included an art piece from Morocco. That piece ended up being sold for $7,000 after everyone who bid on it decided to pool their money together. According to Mariama Badjie, the New York State representative for Charity Week, contributions were made by Muslim Student Association members, non-Hunter students and Hunter alumni. The MSA board plans to figure out the best spot to hang the painting in the MSA club space on the fourth floor of Thomas Hunter.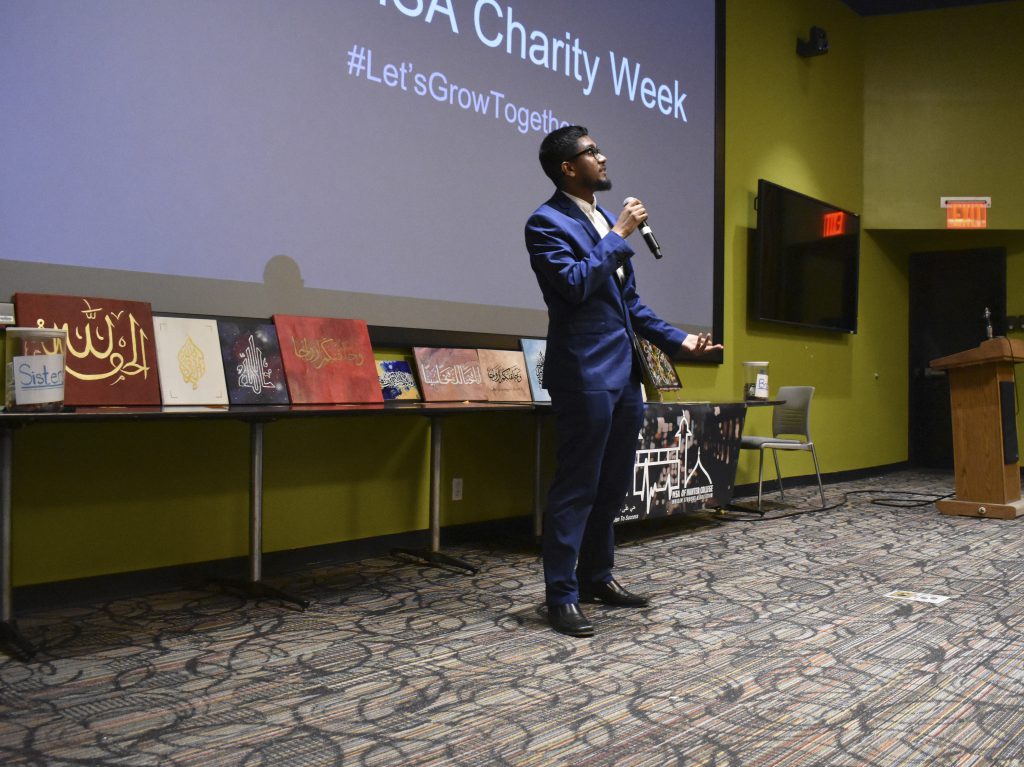 On Nov. 18, the Charity Week USA Annual Dinner was held at Widdi Hall in Brooklyn, where the organization announced the numbers that were contributed from each school. Badjie said that Hunter was able to raise $44,666.67, which was nearly a $15,000 increase from last year. In 2017, Hunter ranked third among 37 colleges that contributed across the U.S. and even then, they were only beat by $471.33 for first place.
"It's incredibly inspiring," said Hakim. "You never know how much people can do until you see it in front of you."