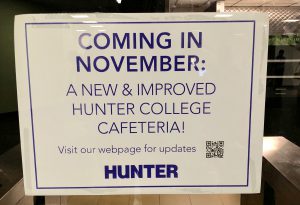 The cafeteria will reopen with a new vendor in late November or December, and between now and then, students have the chance to name it.
The student who wins can look forward to a $100 gift card that can be used to buy anything in the new cafeteria. Ideas can be submitted to, usg@hunterusg.org.
In the meantime, students have been forced to look elsewhere for lunch, and many say they are finding it hard to find inexpensive, healthy meals close to campus. The vending machines, the food trucks parked outside, and more expensive neighborhood restaurants are the only options left, they said, and many feel trapped into spending more or eating poorly.
"It makes me upset — a salad costs me about $13 every time I make a decision to eat cleaner," said Shade Fakoya, a women's studies major.
Fakoya said she often chose lunch options because of pricing and accessibility. The cafeteria had trays of curly fries greeting students walking by the hot food options in between classes. For $3, it was hard to say no. "I found myself eating curly fries last semester just because I wouldn't have enough time to cook the night before," said Fakoya.
Now Fakoya finds herself getting salads and soups at Hale & Hearty, located on 64th Street and Lexington.
The cafeteria was shut down because the previous vendor at the campus ended its account with Hunter with little advanced notice, according to a spokesperson for the college. The vendor opening next month will be temporary, and only open until next summer, since CUNY is developing a request for proposals for its dining services citywide. The college currently has an alternate dining option near the entrance of the 3rd floor library featuring an assortment of baked goods, juice smoothies and baked empanadas. The signage covering the cafeteria has recently been updated to "Coming soon: A new & improved Hunter College cafeteria."
Across campus, many students can be found with Tupperware packed from home to accompany them on their often long days on campus. Nick Naclerio's packed lunch contained some turkey, quinoa and vegetables.
"I'm bodybuilding right now and mostly why I pack lunch is because I want to be conscious of what I'm eating throughout the day," said Naclerio, a senior.
Daniel Jalashgar, a Staten Island native, eats from the food trucks parked outside the campus. He said he can get an entire meal for only $5, and it's convenient.
"I know it's not the best decision, but it's fast, easy and inexpensive," said Jalashgar. "Eating anywhere else costs too much money and I'm still hungry after."