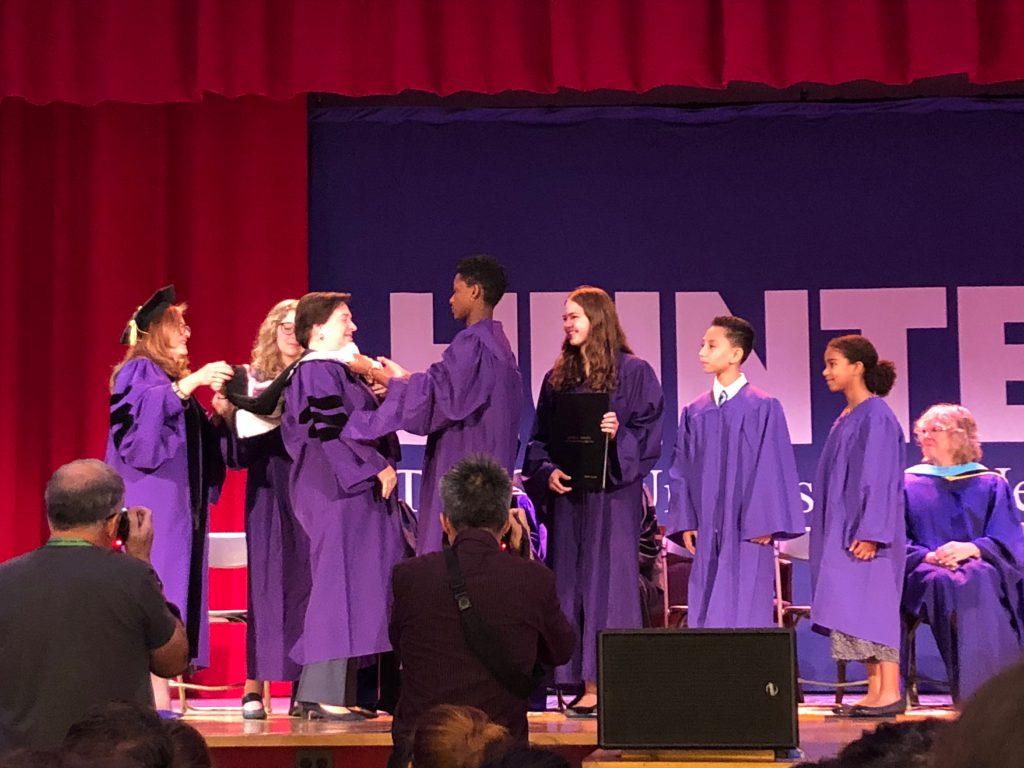 When Supreme Court Justice Elena Kagan came to Hunter on Sept. 21, she shared both fond memories from her time at Hunter College High School, and sound advice for students as they face life's choices.
"Life takes strange twists and turns…you shouldn't plan too much," she said to a packed house at the Assembly Hall. "You should have a general idea of what moves you, and what fills you with a sense of purpose and meaning, but you shouldn't plot every step along the way."
Kagan, a graduate of both Hunter College Elementary School and Hunter College High School, was there to receive an honorary degree of humane letters from Jennifer Raab, president of Hunter College. She also participated in a discussion about her journey and life on the Supreme Court with John Manning, dean of Harvard Law School.
One of the themes that emerged during the ceremony and discussion was Kagan's deep roots in the Hunter community. Her mother, Gloria, was a teacher at Hunter College Elementary School for several years. Irving Kagan, her brother, also attended Hunter College High School, and currently teaches social studies there.
"We believe that Hunter High is the only school in the country where a brother teaches his sister's Supreme Court cases," said Raab during her speech.
Laughter filled the room, and Kagan joined in on stage.
Kagan graduated in 1977 from the high school, a selective school that consists of grades 7 through 12 and is overseen by Hunter College as part of the Hunter College Campus Schools system. Located on East 94th Street, it was an all-girls institution until 1974 and Kagan's graduating class consisted of only young women. This was an empowering experience, said Leslie-Hunter Gadsden, a classmate of Kagan's.
"Our class, it was all kinds of neighborhoods, all five boroughs, all kinds of ethnicities and cultures, and yet we were all back then 'Hunter girls,'" she recalled.
She spoke fondly of Kagan, with whom she shared a Latin class for a few years. Like all young women in their class, she said, Kagan was "smart as a whip."
Even back then, Hunter-Gadsden wouldn't have been surprised if Kagan decided to pursue a career in law and politics. She said she had a sharp sense of humor and was not afraid to respectfully disagree with teachers in class.
"She wouldn't back down just because that was our teacher and we were still high school students," said Hunter-Gadsden.
Kagan's confirmation to the Supreme Court in 2010, Hunter-Gadsden said, was a "total validation" for her class. "It made us feel like, here we were, women who went to Hunter College High School when it was still all-female," she said. "And Elena was like our beacon."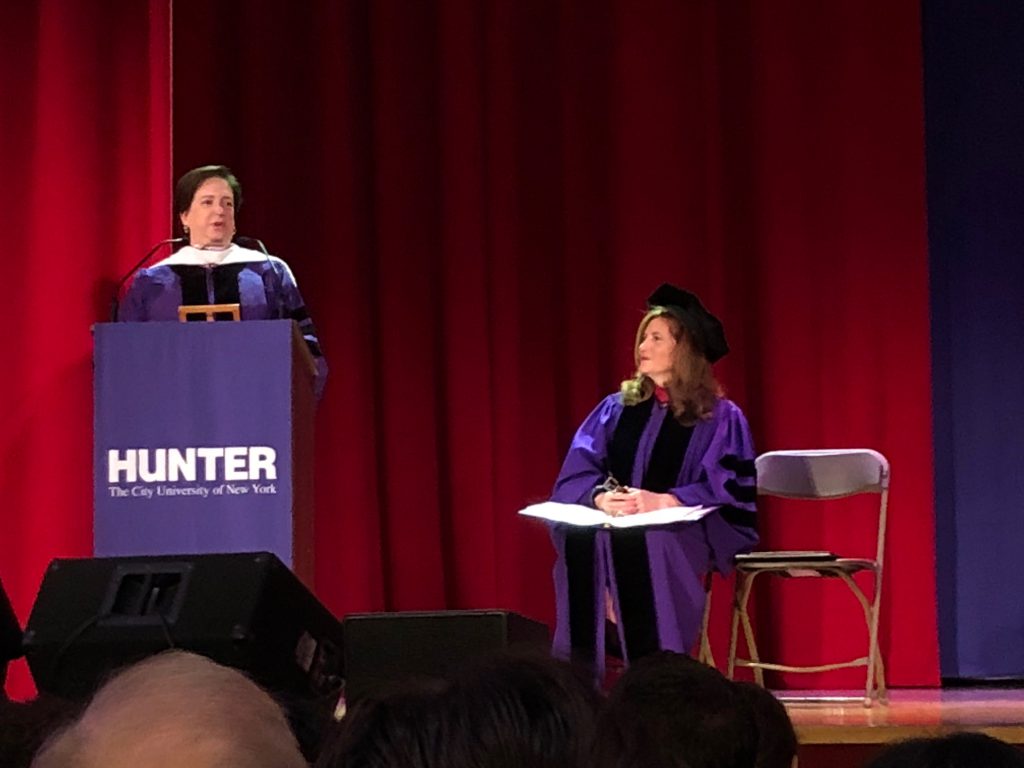 Kagan told the audience that she was unsure of what she wanted to do after graduating from high school. She went on to study history at Princeton University, before obtaining a master's in philosophy at Worcester College in Oxford, England. She then went on to Harvard Law School and found fulfillment studying law.
Kagan told the audience it was a "combination of doing something that was intellectually incredibly exciting but also had the potential to bring about change in the world and make a difference that made me love it."
After law school, she clerked for a circuit court judge, and then went on to clerk for former Supreme Court Justice Thurgood Marshall. She worked in private sector law for a few years, before teaching at the University of Chicago Law School. In 1995, she became an aide to President Bill Clinton, becoming deputy assistant to the president for domestic policy and then deputy director of the Domestic Policy Council.
After her nomination to be a federal circuit judge failed, Kagan returned to Harvard Law School to teach, eventually becoming dean in 2003. In 2009, she became U.S. solicitor general, and that same year, was nominated to serve on the Supreme Court.
In addition to her accomplishments as a public servant, Kagan has also achieved milestones as a woman. She was the first woman to serve as both the dean of Harvard Law and as solicitor general.
"You said 'yes' and shattered yet another glass ceiling," Raab told her at the ceremony.
Five students with interests in law and public service—all from Hunter College or Hunter High School—joined Kagan on stage. Demi Moore, a senior at Hunter College, officially placed an honorary hood around Kagan.
She called the moment "truly surreal— an out of body feeling."
Moore particularly admires Kagan's honesty about the work she's put in to get to where she is today, and her frankness about obstacles along the way.
"Understanding that we have similar backgrounds and similar frustrations and prospects helps me to understand the challenges that don't always turn out the way I may want them to turn out, to understand that challenging myself means putting myself in uncomfortable places," she said.
Hunter College freshman Steven Gray was excited to see someone as prominent as Justice Kagan during his first year at Hunter.
"I feel like it was such a monumental thing for her to be here to talk about her current role in the United States government, and how I can basically apply what she said to me furthering my law career," he said.
"How often does somebody get to see a Supreme Court justice in person?" added senior Jaslin Kaur.
Kaur was also eager to see Justice Kagan due to the barriers she has broken as a woman.
"I think it's really important for us to see women on the Supreme Court coming to Hunter College, especially knowing this college was initially a women's college as well," she added.
Sophomore Alexis Paulin-Edwards called the experience of seeing Justice Kagan speak at Hunter "monumental."
"I think we're at a formative time in our lives," she said. "And to see someone speak about their job, one of the most important jobs in the land… One of us might be her one day."