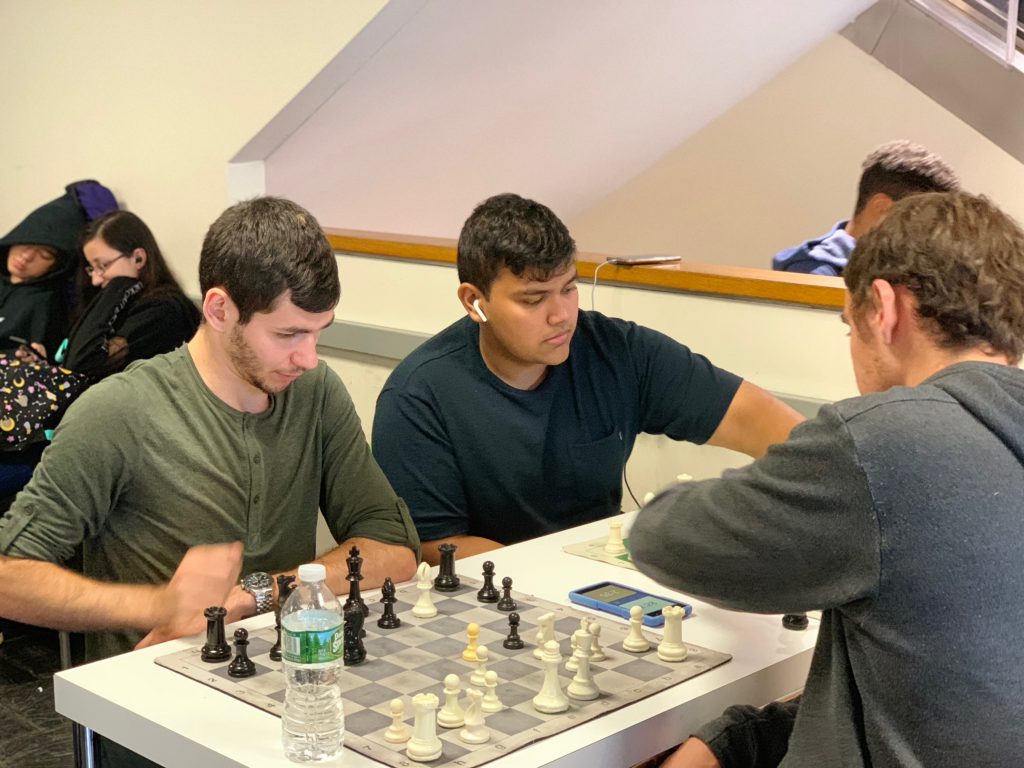 The West lobby has recently welcomed a new group: the dominoes players, who occasionally blast bachata and vape JUULs alongside the kings, queens and pawns of the college's chess club.
Both clubs, which are currently unofficial by Hunter College club charter rules, have found themselves sharing the same happy home since the start of the fall 2018 semester.
Unlike other clubs who have rooms, the chess club simply took over the West lobby as a matter of both convenience and circumstance about two years ago, as the domino club is doing now. Both are hoping to become established as official school clubs in the spring 2019 semester.
"What we have now is a sort of public, casual manifestation of the club, and I enjoy it the way it is," said Vladimir Zark, 22, the chess club's former president who graduated in May 2018.
With Zark off campus, Nicolas Negron, 19, a sophomore, now comes in nearly every day around 8 a.m. to bring in his personal chess sets and borrowed dominoes to provide both clubs as there are official boards or tiles for each club as of yet.
"Now it's my job to carry the chess boards and the dominoes because the former president graduated, even though I'm not in any office of the club," said Negron. "I usually leave when Hunter closes because there's always different people coming at different times."
In between classes, Negron leaves his chess sets and domino tiles in the lobby for other members to use. After about 10 p.m. he packs up all the games pieces and leaves for the night to do the same thing again the next day.
The two clubs consider themselves to be separate groups, however members from both groups run back and forth between chess boards and domino tiles all day.
While some student observers consider them a rowdy bunch, the members of the two clubs see themselves as part of a support system – a group of young students who are open to making friends and helping one another.
"It's a safe space where someone can just talk and relax and also be serious about schoolwork too," said Negron. "If anyone has a problem they just ask and we all just try to do our best to help."
Many freshmen find themselves drawn to the chess club because of its reputation of open arms. Luis de Leon, 17, joined within his first few days of college this fall.
"I honestly was scared that I wouldn't make any friends here at Hunter," said de Leon. "I'm a freshman so like it was weird transitioning into here and this was just such a good place to go meet people."
The chess club at Hunter has bounced back and forth between being an official and unofficial club for a half century, since 1968, according to Zark. Recently, issues such as GPA standards and their official member capacity have kept the it from being considered an official club by the school.
While there are many regulars who join the chess club for a game or two, many of these people do not consider themselves official members, leaving their actual membership in the low-teens depending on the day.
While the club may seem unorganized, they try to abide by certain unspoken rules, such as respect for one another and not blowing off all your time playing chess when you have schoolwork to do. And like other clubs, each year the members elect a president; this year's is Blake Burma, a senior.
About 20 students are involved in the domino club and they usually play either single or team matches. The chess players on the other hand play numerous variations of chess including but not limited to classic (slow, blitz and bullet), king of the hill, bughouse, horde, atomic, anti-chess and crazyhouse.
More than anything, members like to play bughouse, a popular chess variant played on two chessboards by four players in teams.
"Most of our funny stories involve chess, a late time and occasional drinks," said Zark, who looks back on his time at Hunter as being partially defined by the chess club. In fact, you can still find Zark playing in the West lobby, at least until they get their own room.