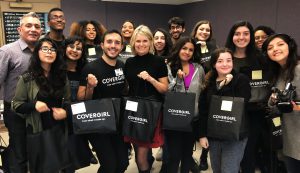 Hunter media and journalism students gathered in a circle, surrounded by gifts from Cover Girl in shopping bags emblazoned with the slogan, "I am what I make up." In front of them stood their guru for the day: Nick Scalzo, a professional makeup artist for Glam Squad, who came to class last week to share beauty tips and techniques for high definition camera exposure.
The students in News Video Reporting would soon be treated not only to expert advice from Scalzo, whose company sends makeup artists to homes and offices, but also free customized cosmetics donated by Cover Girl.
"When I first arrived I was confused — our professor told us to find a Cover Girl bag with our name on it," recounted Cait Munson, a media major. "I thought it was such a kind gesture from both Cover Girl and Sissel McCarthy."
As Professor McCarthy looked on, students carefully watched Scalzo as he walked them step by step through his methods of accentuating features that may be lost when in front of the camera. By working on only one side of student Alexandra Ali's face, Scalzo was able to demonstrate the power of subtle techniques to dramatically define the eyes, which are a TV reporter's most important tool.
"Enhancing depth and dimensions for camera exposure will give the viewer what they are expecting," Scalzo explained, using the Cover Girl products to apply makeup to the eye area on Ali. He advised students to highlight the highest point of the eyelid and to shade in the natural contours of the face to enhance the 3D form of the face for on-camera exposure.
Students pried Scalzo with questions, mostly regarding the selection of the right shade of foundation and ways to determine whether your skin's undertone is warm or cool.
"With 11 years doing makeup, it is still a question that never goes away," Scalzo told students, adding that it's very important to determine your correct shade because if one has a cool undertone and uses a warm foundation, the outcome will be a skin tone high in orange pigment. Scalzo also advised the women in the group to ensure that their face shade matched their décolletage.
The trick? Look for hints of peach and pink undertones that define warm skin tones, and olive and yellow that define cool.
Soon after Scalzo completed the right side of Ali's face, the room filled with smiles of approval. Scalzo then shared beauty tips for men by stepping in front of the camera himself.
"Make sure your skin is cleansed and moisturized," said Scalzo. Dry skin, he said, will read on camera. He demonstrated a quick way that men can cover up dark circles or blemishes with the use of foundation that matches the undertone of their skin – not a bad trick for over-tired students.
Room 503 in the north building bustled with the sounds of rolling computer chairs and chatter. Students slowly walked out comparing shades of their eyeshadow palettes with each other and some sat behind and spoke to Scalzo as he began to pack up.
Ali stood in the center of the room and as she giggled, she quietly asked Scalzo, "Can you finish the other side of my face?" McCarthy, Scalzo and the remainder of the students in the room burst into laughter, "I completely forgot, of course!" he said, inviting Ali back to the chair.