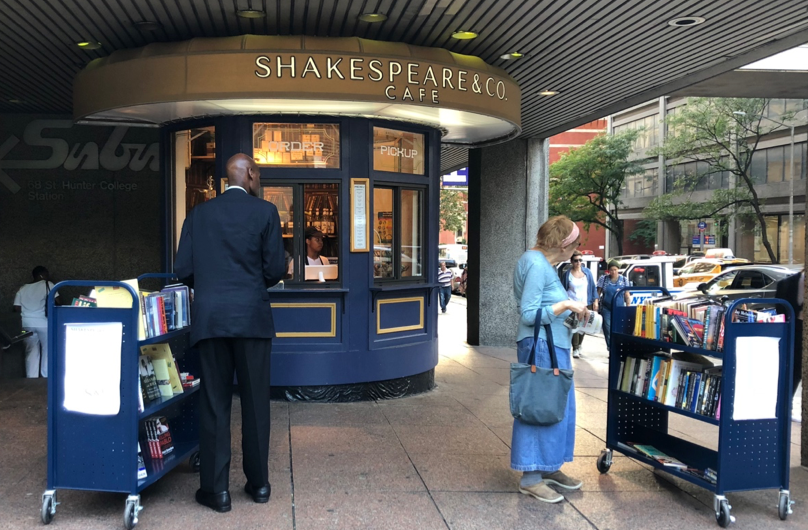 With its new kiosk tucked under the corner of the East building and a machine at the main store that can print a paperback in minutes, Shakespeare & Co. is trying to do what all booksellers across the country are attempting: stay alive in the era of Amazon.
The bookseller has been at 939 Lexington Ave. for more than two decades and is now also the "official brick and mortar bookstore for Hunter College." Three years ago, managers added a café and an Espresso Book Machine that prints paperbacks on demand. Now they have staked out a second, more subtle, presence outside the entrance to the 6 train. The new kiosk, which opened in early September, offers coffee, treats, Hunter merchandise, and books located on carts outside.
"The idea is that the cafe and bookstore are symbiotic and complement each other," said Christian Melahdo, general manager of the store. "We're happy with how it's been working so far."
Plans to build the kiosk were in the works for over a year, after there was a vacancy from the previous tenant, a florist. Melhado, who has been general manager since January 2018, felt the kiosk would make a nice extension of the store, as well as an opportunity to serve Hunter students coming from the subway.
"I really like it because you can get books or food and drink before class," said Nisi Sperce, a junior in her first year at Hunter.
The current book selection is diverse and at times, unconventional. One day in early October, options ranged from "The Iliad" to "Celebrity Trump" playing cards. Options included classics, fiction, nonfiction, New York Times best sellers, art books and postcard sets. Prices ranged from about $6 to $10. Tyrone Johnson, a customer browsing the book carts, said the book selection seemed like a "hodgepodge of things they couldn't get rid of."
Melhado said the books on the carts are "remainders," which are new and used books that have not sold. The selection changes weekly, and a third book cart was recently added.
Melhado hopes that the kiosk adds to the overall vibrance of the community surrounding Hunter. "If it's running well and the kiosk is getting a lot of customers, it's beneficial to vitality of neighborhood to have a unique little retail outlet," he said.
Shakespeare & Co. CEO Dane Neller said the company has tried to evolve to remain competitive in a new era for bookstores—in particular, by ushering in a machine that can print books on-site.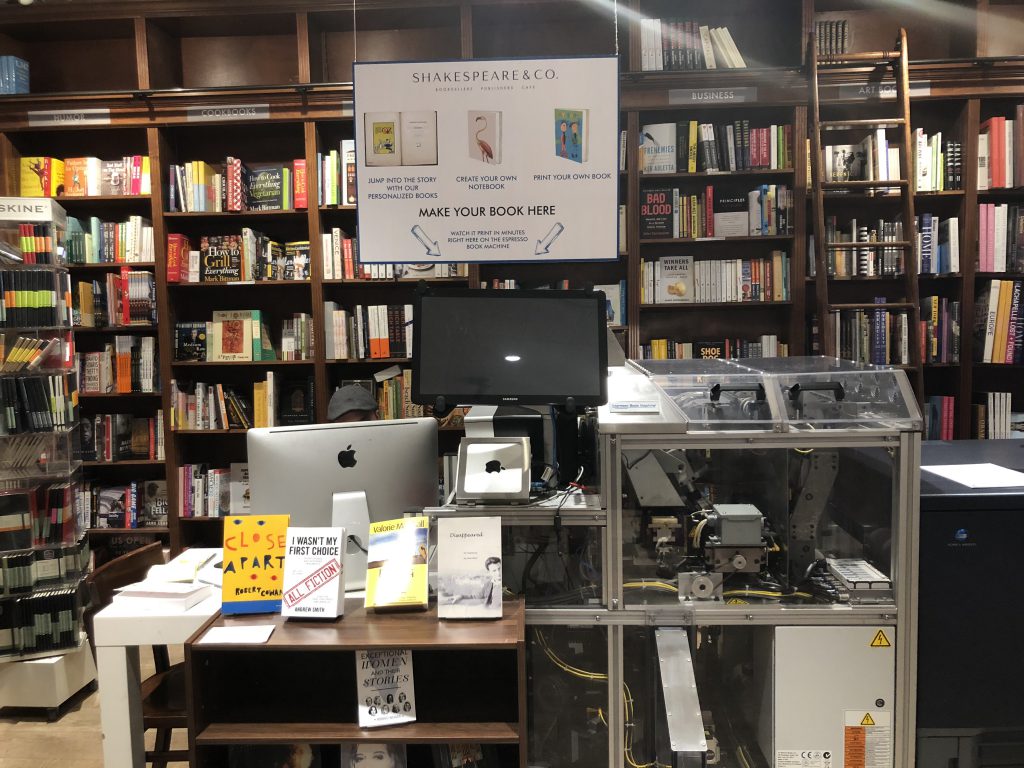 The Espresso Book Machine can generate books within minutes after customers make selections from a catalogue consisting of more than 7 million titles. In what Melhado calls "a modern twist to a brick and mortar bookstore," the machine can churn out a paperback in about five minutes. The idea behind the name is that customers can grab coffee while waiting for their book to print.
In addition, customers who want to self-publish books, from novels to cookbooks, can send digital copies of their work over to Shakespeare & Co. and arrange for the machine to print it. The machine automatically prints, binds and trims books, and is also environmentally sustainable, with trimmings recycled or used for notebooks, which customers can also personalize and print on the machine.
According to Melhado, it processes about 100-150 books per day, and about four customers per day come to self-publish their books. One of the most popular titles that the machine prints? "The Archer's Tale" by Bernard Cornwell, which prints a couple of copies per week.
Melhado explained that the machine helps provide customers with access to as many titles as possible, while allowing the store to operate within a smaller space and have room for cafes instead of storage space. "I'm excited to be a part of a company that's trying to remain competitive and think outside of the box," he added.
Shakespeare & Co. was founded in 1981, and first opened its flagship location in 1982 on the Upper West Side, which closed in 1996. The store on Lexington Avenue opened in the fall of 1995. They recently opened a location in Philadelphia, and will be opening new locations in Greenwich Village and the Upper West Side
In the future, Neller sees the company continuing to open new stores and have a national presence while maintaining its small, independent style, or being a "chain of independent bookstores." Although Amazon has created intense competition for bookstores, Neller says he has noticed consumer demand for independent bookstores in different communities.
"I think there's a reaction against big boxes, and I think not everyone wants to buy everything on Amazon," he said. "So we're trying to fill that role of community bookstore."