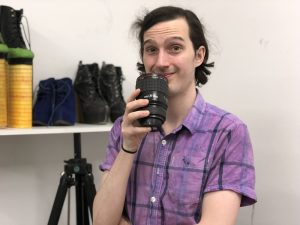 A half dozen pairs of shoes are scattered around Tim Foley's art studio in downtown Manhattan, but only one pair is given the spotlight: an olive-green ankle boots with three bricks glued to each sole with a piece of wood on top.
Seated with a soft smile in his face, Foley holds a coffee cup fashioned out of a Canon camera lens. He wears a violet shirt, light gray jeans and regular boring shoes – a long way from the subject of his art.
Foley's obsession – and his art – are shoes, and the way they are worn. For the bricked shoes, his inspiration came from a video he watched of four teenagers dancing a song by Lady Gaga.
"There is something that I just love about that," said Foley, who noted that the teens were trying to imitate the flamboyant Lady Gaga's stacked heels. "They work with what they have."
Foley, 25, is pursuing a master's degree in fine arts at Hunter with a focus in photography. This year, a group of 11 students from the MFA program will feature their work in an exhibit called Mayday which will run from May 9 to May 25 at Hunter's gallery at 205 Hudson St. near Canal.
When Foley was around 11 or 12 years old and living in East Northport, NY, he discovered photography and his parents bought him a cheap plastic camera. Soon after, they gave him a "real camera" said Foley, that even though was a bit broken, inspired him to go to the woods to take pictures. His work "Immortal," made when he was 23, highlighted on his website www.timfoley.net is an inspired session of some nude pictures
in the woods. Foley went on to get his undergraduate degree in photography from SUNY New Paltz, graduating in 2016 with a BFA in photography.
Foley started following drag culture when he was 16, in high school. "I wish I went to drag shows when I was in high school. I do have very fond memories of being 17 and 18 and going to pride parades, especially the ones in New York City. It was like a queer mecca and I loved it."
It wasn't until Foley turned 21 when he legally started going to drag shows. For Foley, drag performances involve a lot of creativity and work, and he is fascinated by the personalities that come out on stage. His series "Draggy Blur" can be seen on his website.
"It is an art form. It is not only the makeup and the performance but the shoes and the clothing and the persona and the music and dancing—it is all these fantastic things," Foley said. "People use it as a form of self-expression to create a persona and make themselves what they would not be able to do otherwise."
Foley would like to spend his time after graduation working in something related to drag. People might even see him on stage one day.