J, a junior at Hunter College, walked in eagerly to Room 405 of Thomas Hunter after finding out that she is now eligible to receive publicly funded scholarships and apply for state financial aid from just like her documented friends. J is a Dreamer whose residency status is protected by the DREAM (Development, Relief and Education for Alien Minors) Act.
Her fate changed thanks to the José Peralta New York State DREAM Act that was passed this year in Albany. Affording tuition is a hurdle for the Dreamers. In 2017, 65,000 Dreamers graduated from high school, but only 5-10% of those students enrolled in college, according to data provided by The College Board. However, with the passing of Dreamers too became qualified to receive any financial aid or scholarships distributed by the state.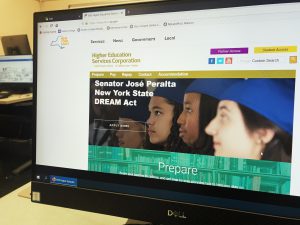 Last Wednesday, the Student Affairs Department held a workshop for Dreamers like J, who needed assistance with filling out the forms to apply for financial aid. "When students come to our workshops, we connect them to scholarships that do not require citizenship status, provide emergency support services and also introduce them to immigration lawyers for consultations at zero cost," said the Student Services Specialist Chris Aviles.
This help is a life support for some students. "No matter how hard I study and receive all these goods grades, I was never eligible for any scholarships. And that really brought down my motivation to study sometimes," said J, who had to work both morning and night at a restaurant to afford her college education. "But now, knowing that I can also obtain financial aid, I feel that I have a reason to try harder in school."
At the workshop, staffers of the admissions office and student affairs worked one-on-one with students to help complete the applications without any errors, answer questions and prepare the required documents to submit the application.
"This is definitely a great opportunity for DREAM Act students and we will definitely organize other workshop sessions in the future," said Aviles.
According to Aviles, there's an estimate of several hundreds of DREAM Act students at Hunter, but only 15-20 students have attended the workshop. "Students should definitely take advantage of these workshops," said J. "When we're now given the resources, we don't have any excuse to why we now can't study in college."
Students can find out about upcoming Dream Act Scholarship workshops at SSA calendar.