New to the journalism community, junior Audrey Henson scored the Pulitzer Center's Student Reporting Fellowship, granting her $3,000 to cover an under-reported global issue. Henson will travel to Japan this summer to report on dementia villages in the country's aging population. But the topic also impacts Henson's life personally: she was a young girl when her grandmother was also diagnosed with dementia.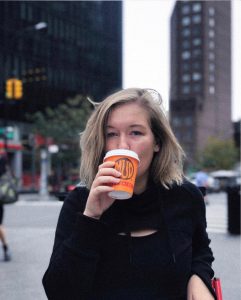 Each year, the center awards one fellowship to a Hunter student. The student presents a proposal for a project along with a budget and reporting plan and must then produce the story and pursue its publication. Henson will stay in Tokyo and travel back and forth from Tochigi and Gunmaover the course of two weeks.
"This story is so much bigger than me, and I'm very grateful to be able to bring a voice to it,"Henson said. "I'm hoping to learn more about the disease itself, so that I will learn how to be a better caregiver to my own grandmother. On a humanitarian level, I'm hoping that this will impact not only me, but everyone on a more personal level.
Henson, a lover of Japanese culture, immediately became interested in the issue after reading an article in the Japan Times. With the majority of the population is now over 65 and the decline in the nation's birthrate, dementia has become a national crisis.
Beyond her interest in Japanese culture, Henson's grandmother struggles with vascular dementia, a serious and rare form of the disease. This condition blocks the blood flow to the brain and eventually kills cells everywhere in the body. Her grandmother's illness has been very tiring on the family, she said. "You are essentially watching someone you love die very slowly and that's very, very hard."
Henson's grandmother wanted to be a journalist when she was younger, which is part of the reasoning behind Henson's career path. Henson's mother was visiting her grandmother at the time the Pulitzer Center award was announced, giving Henson the chance to share her excitement with both her mom and grandmother at the same time. She explained how her grandmother reacted to the news.
"She was so happy when I told her of my acceptance, she painted me a cherry blossom tree," Henson said. "My grandma's name is Audrey too."
Henson is looking forward to the assignment, but the trip and the topic are also intimidating to this young journalist. 
"Every day I wonder if I am a good enough writer and reporter to do this story justice. I'm very hard on myself as a writer and storyteller, so I am constantly wondering if I can take on a story this big," said Henson.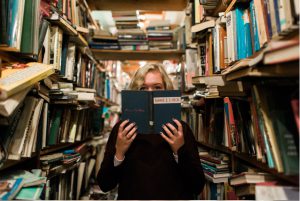 Henson, warm and loquacious, is also a standup comedian. When she first learned she was awarded the fellowship, she felt "super weird" and immediately thought she didn't deserve it. Just two days prior to the news, Henson had declared media as her major.
"I was undeclared before I submitted for the project, declared my major, then got the fellowship! It all worked out in a very convenient order," said Henson.
Her nerves have been settled somewhat, she said, knowing that she has the support of professors in the journalism program.
"I have the Pulitzer Center behind me along with Sissel McCarthy and my reporting professor,Adam Glenn, who support and believe in me, which makes it hard not to believe in myself," Henson said. "I have a lot of ideas and a lot of passion for this project. So I am excited to share my vision with everyone else."
McCarthy believes the Hunter student is up for the challenge. 
"Audrey already has a real nose for news and pitched a story that perfectly fit the Pulitzer Center criteria, namely an underreported international story of global significance," said McCarthy.
Henson is now dealing with the strategic planning of her first journalistic experience. She's already received calls from the editor assigned to her from the Pulitzer Center, and Henson and her mother, whom she refers to as her "production assistant," are pricing things out and trying to find the most useful and wise way to use the $3,000 grant.
 "The more I read about my topic, the more I realize how truly out of place I'll feel," Henson said.
She plans on booking a "fixer," a local hired by a foreign journalist who serves as a translator and guide. Henson's mother will also go along, easing some of the 22-year-old's nerves.
"She is my travel partner and while I work, she will explore the country. It will be nice to have someone to speak English to," says Henson.
Henson is already in touch with the Dementia Center in Japan and is trying to learn as much about the topic as she can in the next 10 weeks, including new methods for treating dementia patients being used in Japan. But mostly she will be looking to see how people are coping with this new crisis.
"I'm very interested in seeing the human side of it," said Henson as she reflected upon her upcoming expedition. "We are essentially looking at our future, and the scary thing about this disease is that no one is safe from it and it isn't curable."