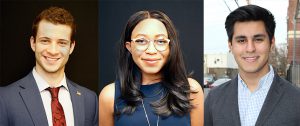 Two current Hunter students and one Hunter alumnus were named Schwarzman Scholars, receiving a prestigious prize that sends students to obtain a master's degree in China. This is the first time that any—much less three—Hunter students have received the scholarship.
The winners are Joy Nuga, Elliot David and Christopher Sperrazza. The three were selected from an international applicant pool of nearly 2,900. Nuga hopes to work at the intersection of finance and cybersecurity while David plans to work in the public sector. Sperrazza, who could not be reached for comment, will aim for public service on the national level—per the press release from the Office of Communications. They are among 147 recipients who will study their choice of economics, business or international studies.
The scholarship was just established in 2016 and is specifically geared to finding young minds that can become links between China and the rest of the world. Up to 200 scholars are chosen from around the globe each year, the majority from the U.S.
"We are simply thrilled," said Stephen Lassonde, director of the Office of Prestigious Scholarships. "Until this year, just one student had gotten an interview for the Schwarzman but to have three interviewed in one year and for all three of them to win the Scholarship was not even something we considered possible."
Nuga, 23, graduated from Hunter in 2017 with a bachelor's in economics, minoring in math and German. Learning German was part of an original plan to pursue a doctorate in economics in Germany, but her path—and this award—has taken her elsewhere.
"I saw 'We are pleased to inform you,' and that's all I needed," she said, recalling the acceptance email that popped up on her iPhone screen in late November. "To this day I still haven't read the whole email."
She currently works as a risk analyst at Goldman Sachs, where her schedule is packed and she sometimes runs on two hours of sleep, she said. She got the job a month after graduating from Hunter, where her schedule seemed equally full. Nuga was a Macaulay Honors student, served in the USG Senate as vice chair, and received a public policy certificate from Roosevelt House. "It gave me a lot of different tastes of a lot of my interests," Nuga said of her time at Hunter.
David, 21, also had plans that have shifted drastically. He originally planned to study astrophysics and cosmology, but will instead graduate with a major in political science and economics, as well as a minor in environmental studies and Hebraic studies. Like Nuga, he is a Macaulay Honors student with a busy schedule—he is the cofounder and former president of Hunter VIEW and is involved with the Hunter Sustainability Project.
"The most important influences at Hunter have definitely been my professors and fellow students," he said in an email. "They have been so incredible and supportive, and I can say with certainty that I would have never made it this far without them."
They both acknowledged the help of people in the Macaulay program.
"These are people that, at this point, I consider family," Nuga said of her advisors. "They're people I can give life updates to, have a drink with. I would not be a Schwarzman Scholar without those people."
Though it's an achievement that she's proud of, it's not one she takes lightly. Nuga grew up in the South Bronx, a child of Nigerian immigrant parents, and calls her sister, who immigrated from Nigeria with her parents to the states, one of her two role models–Michelle Obama being the other. She wants to make them, and all her supporters at Hunter, proud.
She's protective of her aspirations for the future – she doesn't reveal them easily. But she did let on that she'd like to start a menswear line someday—she's always loved men's shirts and ties. More than that though, she wants whatever she does to help people—especially those that look like her.
"If there's a child from the South Bronx with immigrant parents who sees me and decides, 'I want to do cybersecurity,' or 'I want to go to Beijing' even though they've never heard of it, then I've done well," she laughed. "If I can inspire someone like me, then I've done well."