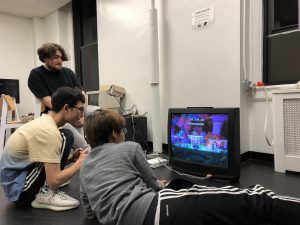 On a recent Friday night, the usually empty classrooms at Baker Theater were littered with television sets and gaming consoles. The edges of the rooms were occupied by old school Microsoft monitors attached to a PlayStation 1s and flat screen TVs displaying vibrant game graphics.
Students lay splayed across the floor, some playing one on one crouched in front of a screen and others gathered in a messy circle casually chatting and playing on handhelds. This was Nostalgia Night, an event hosted by Hunter's Esports and Game Design Collective designed to draw in new club members and playing partners.
"We've recently started doing Nostalgia Night for people who are interested in free games and free playing and getting a much wider audience that doesn't necessarily pertain to the other things we do," said club secretary Esteban Mundo, 19, a computer science and emerging media major.
The collective recently gained their official club status this year, and since then they have been holding weekly meetings at the Baker Theater building. The club is comprised of more than 30 active members but has more than 400 members on Discord, a free voice and chat app for gamers.
While most of the seasoned club members are computer science and game design majors looking to sharpen their skills and educate others, those who have a more casual interest enjoy the free gaming and welcoming company, according to the members of the club. During the meeting, the club occupies the entire fourth floor and is spread over five different rooms.
"Right now, we're hosting game narrative with Twine, and over here we're teaching people how to do streaming with OBS, which is a software for online streaming for our esports and competitive segment," said Mundo as he toured the space during the meeting.
At a commuter campus like Hunter, students said they appreciate any effort to create a community of like-minded individuals in such an isolating environment.
"It's very nice to have a space to feel comfortable in," said Kana Tateishi. "I feel included in the Hunter community. I feel better about myself that I'm doing something with my college career socially."
While the Esports and Game Design Collective focuses on league play and game design, members pride themselves in creating an open and welcoming space.
"The atmosphere that we have here is really chill and inclusive," said Angel Santana, 20, a yearlong club member. "Before I discovered this club, I didn't really do much. I would usually go home after class, but with this club I made a lot of new friends. It's a place where I can always relax after a day of classes, to destress and have fun with people."